Paper surveys (with optional scanning)
Many customers choose Snap Survey Software because it gives you the flexibility to run surveys in a range of modes - paper, online, PDA, Kiosk and phone. Add the Snap scanning module and you can cost effectively speed up data collection.
Paper surveys can prove more effective than online surveys for delivering responses. Paper surveys combined with other survey modes can also boost responses, particularly if you need to target harder to reach communities or fulfil strict quotas. Snap Survey Software gives you the flexibility to find what works best for you!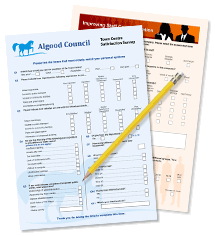 Customers choose Snap Survey Software for paper surveys because…
Designing professional looking questionnaires is easy. Tailoring options include images, column layouts, colors and fonts.
Snap supports any language you need to run surveys in. Questionnaires and reports can also be formatted to be read from right to left.
Data entry is a breeze when you add our scanning or data entry modules. Find out more about scanning with Snap.
Snap offers an array of powerful analytical tools and real-time reporting.
Our survey software handles multi-mode surveys - create and analyze questionnaires for paper, online, PDA, Kiosk and phone.
"Great survey software product and responsive, friendly and knowledgeable staff - it's a good combination really..."
We can manage paper and other surveys for you
Our research services team can help with all aspects of paper surveys.
Project management - the team is experienced in running paper and multi-mode projects for clients in commercial and public sectors. We can also create and manage multi-language surveys.
Project support - maybe you just need help with setting up a questionnaire; deciding on the most effective respondent strategy; data capture; or analyzing the results. We can do all this and more.
"Snap had a really good understanding of what was required & delivered on time in a user friendly format."