Design and Administer Paper Surveys with Snap Survey Software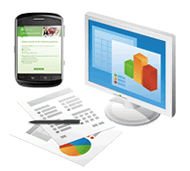 Many Snap Surveys customers choose Snap Survey Software because it gives users the flexibility to run surveys in a range of modes. You can provide your respondents with flexible options and accessibility through a combination of:
Depending upon your audience, paper surveys can prove more effective than other modes of survey research for collecting responses. Additionally, administering paper surveys in conjunction with other survey modes can help boost response rates, particularly if you need to target survey respondents in harder to reach communities or if you need to fulfill strict quotas.
Snap Survey Software gives you the flexibility to work with all modes of survey research to find the best methods that work best for your survey research needs. Snap Survey Software facilitates the collection of survey response data from multiple data collection sources, and merges survey data into a single dataset ready for complete analysis. For example, you can administer one survey with a mobile device, online, and paper simultaneously – and collect and merge all survey response data into a single dataset ready for complete analysis.
Are you stumped for ideas on where to start with your paper survey? Are you looking for some inspiration to create logical survey questions and eye-catching paper survey design ideas? We have a useful resources tab on our website full of survey samples for many market sectors and topics, including: education surveys, healthcare surveys, employee surveys, conference evaluations, customer satisfaction surveys, marketing surveys, feedback questionnaires, forms, government surveys, and much more to help you get started.
Click here to view all of our sample paper surveys.
Add the Snap Surveys scanning module and you can cost effectively speed up data collection. The Snap Scanning Module is a powerful product that is a cost-effective way to collect data from paper surveys quickly and efficiently.