Learn how to customize survey reporting with Snap Surveys' online survey software.
We have created a worksheet for Snap Survey Software users to demonstrate how to create a report utilizing batch analysis when using existing tables and charts. The worksheet also explains the difference between how the analyses are defined inside the batch, and how they are defined on their own.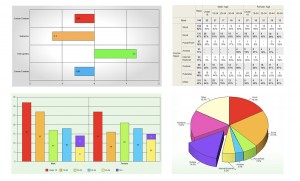 What is batch analysis? Batch reporting speeds up and automates the production of regularly produced reports. You can set-up batches to automatically produce results from a large number of pre-defined analyses. This is particularly useful when the same set of results is required on a regular basis, as batches eliminate the need for tables and charts to be specified individually.
The worksheet also covers how to use a Window Size instruction to set the size of charts, and how to proof your report.
» View this Worksheet | View all Worksheets
We welcome you to join us at Snap Summer Camp. We will be covering batch reporting in our FREE webinar on Tuesday, August 21, 2012.